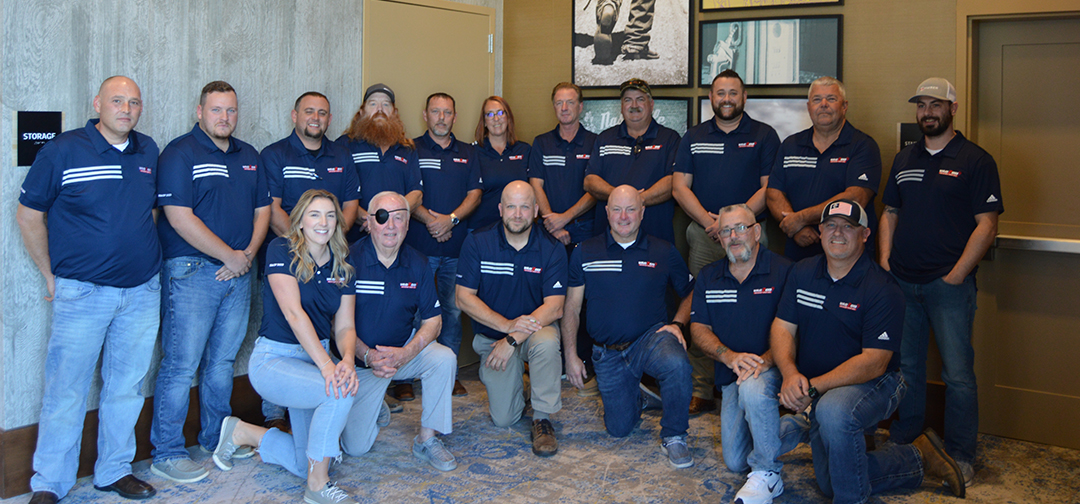 Region Operations Manager – South
Location Responsibilities: Texas, Tennessee, Alabama Facilities
Responsibilities:
Ensure all safety procedures are always followed throughout the branch operations, at all times.
Adopts and drives company culture aligned with our mission, vision and values to achieve goals and continuously identify areas for improvement.
Engages with the teams to standardize operational capabilities that result in high quality results across multiple areas including, rentals, accessories, and services.
Represent the company with clients and attend regular meetings with operations and sales personnel to ensure client needs are being met.
Ensure Operations Management is meeting or exceeding expectations daily/weekly basis.
Leverages best practices and technology to improve customer experiences, reduce errors and continually improve operations of the company.
Provides direct operational oversight and approval at the regional level for the management of P&L(s) assigned.
Engages directly with the VP of Sales to ensure customer satisfaction and suitable resolution to conflicts are achieved effectively and efficiently to the benefit of the company.
Backfill for Operations Management resources as needed to facilitate PTO or new branch openings.
Ensure manpower needs for each branch are met by working with each Operations Manager and liaison with Human Resources or external recruiting agencies.
Interviews and assists with the onboarding/offboarding of team members.
Advances the training and career development of the operations staff assigned to them and engages with team members to further develop talent.
Acts as a liaison between branch operations and all other departments of the company and ensures teams work cross functionally and with a high sense of urgency.
Ensure all inventory is accurately and properly recorded within the financial system and remediate deficiencies effectively.
Evaluate, Mentor or Coach operations personnel as needed to advance safety, quality and productivity, ensuring adherence to company policies and procedures.
This role is expected live within an hour of any of the branches listed in this posting and report to that branch daily when not travelling to other branches.
This role is currently assigned 3 branches and will have additional branches assigned to align with growth and performance expectations.
May be required to define, create and manage new initiatives from inception to closure, the ability to clearly communicate at multi-levels of the company and adjust messaging to fit the audience is key.
This position will report to the COO of the company and is expected to perform other duties as assigned by the COO.
Qualifications:
Ability to build a high amount of trust and respect within and at all levels of the organization.
Operations Management experience with budgeting, scheduling and planning required.
Advanced knowledge and use of Microsoft Office is required.
Knowledge and prior use of ERP systems, GPS systems, dashboards, metrics is required.
Minimum 5-years' experience directing operations management, mechanic shops, or fleet operations
Bachelors of Science in a relevant field is preferred but may be offset with certifications such as Lean methodologies and Six Sigma, and/or experience directly in the rental equipment market.
In addition to the qualifications and requirements outlined for the role, the ideal person for this role , will think outside the box (aka improvements) and hold themselves and others accountable while working inside the box (aka policy/procedure) mixed with a genuine nature that embraces; collaboration, problem solving with a mindset for continuous improvement.
Please send resumes directly to mharper@vac2go.com
Human Resources Generalist
We are looking for a Human Resources Generalist to join our team and implement various human resources programs. This person will have broad knowledge of human resources functions, from hiring to onboarding and employee compensation. If you have a passion for HR, are excited to learn, and love driving toward outcomes, this is the place to be. 
Key Responsibilities & Accountabilities
Support the recruitment process including job postings, resume review, interviewing, reference checks, offer letters, and entire onboarding process
Work with management team on performance management, harassment/conflict, and progressive discipline issues.
Establish a training program that includes compliance training, manager/supervisor training, interview skills, and other relevant content
Develop and implement a performance review process
Coordinate DOT drug screening compliance
Implement a motor vehicle records review process for all company drivers
Create a robust onboarding process to welcome new hires
Serve as the liaison for 401(k) enrollments as employees qualify
Establish a timeline to ensure benefits communications are sent timely throughout the year to employees and assist with the coordination of employee benefits
Process and administer all leave-of-absence requests and disability paperwork
Maintain staff schedules to assure proper coverage in all departments
Assist in developing, editing, maintaining, and administering company policies and procedures
Maintain communications, schedules, paperwork & action items involved with company's insurance carrier
Assists in administering transfers, promotions, discipline & terminations, ensuring compliance with company policy and applicable law
May serve as backup for payroll
Minimum Qualifications
Bachelor's degree in Human Resources or related field preferred
2-4 years' experience in Human Resources
Proficiency in the use of Microsoft Office programs, such as Outlook, Word and Excel, as well as the general use of computers
General knowledge of pertinent federal and state regulations, filings, and compliance requirements including employee benefit programs), FMLA, NLRB, ADA, Workers Compensation, and DOL requirements
Excellent interpersonal and communication skills, both verbal and written
High level of integrity and trustworthiness, with the ability to maintain confidentiality
Demonstrate accuracy and thoroughness
Applies feedback to improve performance; Monitors own work to ensure quality
Approach others in a tactful manner; React well under pressure; and treat others with respect and consideration regardless of their status or position
Advanced proficiency with Microsoft Office Products

ATS/HRIS experience preferred
Please send resumes directly to awoosley@vac2go.com
Fleet Manager
We are seeking a highly skilled Fleet Manager to oversee our company's fleet of vacuum truck vehicles. The Fleet Manager will work closely with other members of the leadership team to drive new branch growth and success while assuming responsibility for overall fleet maintenance, repair, and compliance.
Responsibilities include:
Develop and manage a "Fleet Quote to Order Process".

Routine operational procedures include:

Assist in the scheduling of drivers for pickup of new units.

Assist in the scheduling of drivers for the delivery of sold units.

Analyze data to increase business operational efficiency.

Approves maintenance required for all units that will be sold.

Maintain detailed records for:

Vehicle titling and registration

Vehicle servicing

Vehicle inspection

Vehicle warranty claims

Vehicle insurance

Vehicle fair market values

Ensure compliance with U.S. Department of Transportation laws and regulations.

Management of the DOT online system to properly assign citations/violations.

Ensure all regulatory reporting for IFTA and DOT is completed in a timely and accurate manner.

Address and manage accident/damage reports from customers and internal drivers.

Utilize and monitor GPS systems to track vehicles in case of theft, accident, or violation.

Work closely with the marketing team to advertise used units for sale.

May be required to fill in for Operations Manager when they are unavailable.

Assist the Executive Leadership Team with fleet and new branch growth initiatives.
Requirements:
Minimum 3 years of experience in fleet management with a proven track record of success, preferably in the trucking or closely related industry.

Strong knowledge of fleet management best practices, including vehicle repair, maintenance, and regulatory compliance

Excellent organizational, communication, and interpersonal skills

Ability to work independently and manage multiple priorities simultaneously.

Strong analytical and problem-solving skills.

Prefer flexibility to be located in Louisville, KY
Please send resumes directly to awoosley@vac2go.com