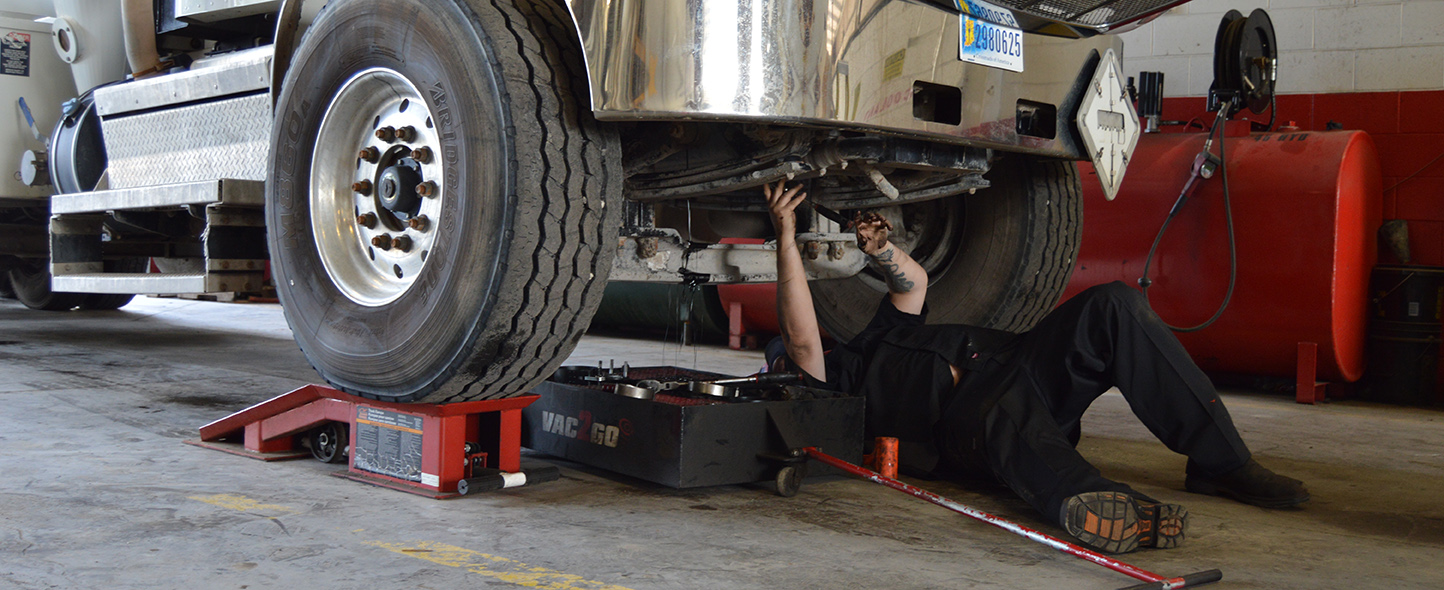 Essential Service Tips for Getting the Most Out of your Vacuum Truck Investment
At Vac2Go, we understand the importance of regular servicing for vacuum trucks. Our experienced technicians use only the best parts and techniques to keep your truck running smoothly and safely. With multiple locations and a commitment to customer satisfaction, we're the clear choice for all your vacuum truck servicing needs. We are committed to providing you with best-in-class service when you need it most! We pride our service department on the following:
Expertise: Vac2Go has a team of highly skilled technicians with years of experience in the industry. We are equipped to handle any issue you may have with your vacuum truck, from routine maintenance to complex repairs.
High-quality parts: Vac2Go uses only the best, highest-quality parts for repairs, ensuring your vacuum truck will perform at its best for years to come. Visit our Vac Truck Store to find essential parts and accessories for your unit. 
Fast turnaround: Vac2Go understands the importance of getting your vacuum truck back on the road as quickly as possible. We will work efficiently to complete repairs promptly so that you can get back to work as soon as possible.
Competitive pricing: Vac2Go offers competitive pricing on all of our services and repairs– to provide you the best value for your money. Why is it essential you stay on top of servicing your trucks? In our January blog post, we discussed what a significant investment purchasing an industrial vacuum truck is. We want to help YOU PROTECT YOUR INVESTMENT and ensure you get as much longevity out of your unit as possible. Here's why you should never neglect this important aspect of truck maintenance:
Safety

:

R

egular servicing ensures that your vacuum truck is safe to use, protecting both you and others from potential accidents and hazards.

Performance

: A well-maintained vacuum truck will perform better, allowing you to complete jobs more efficiently and effectively.

Reliability

: Regular servicing helps to prevent breakdowns and costly repairs, keeping your truck running smoothly and dependably.

Longevity

: By taking care of your vacuum truck through regular servicing, you can extend its lifespan, saving you money in the long run.

Compliance

: Certain industries have specific regulations and standards that must be met, and regular servicing helps ensure your vacuum truck complies with these rules.
What types of services does the Vac2Go maintenance team offer?
Tank/ Bag House/ Cyclone Relining and Repair
Electrical Repair
Transfer Case and Blower Repair/Replacement
Hydraulic Repair
Paint
New Components Installation
Complete Truck Rebuilds
Regular Preventative Maintenance Programs
Plus, custom requests to help serve our customers in certain situations
In conclusion, if you want the best industrial vacuum truck services and repairs, choose Vac2Go. With their expertise, convenient locations, high-quality parts, fast turnaround, and competitive pricing, they are the clear choice for all your vacuum truck needs.